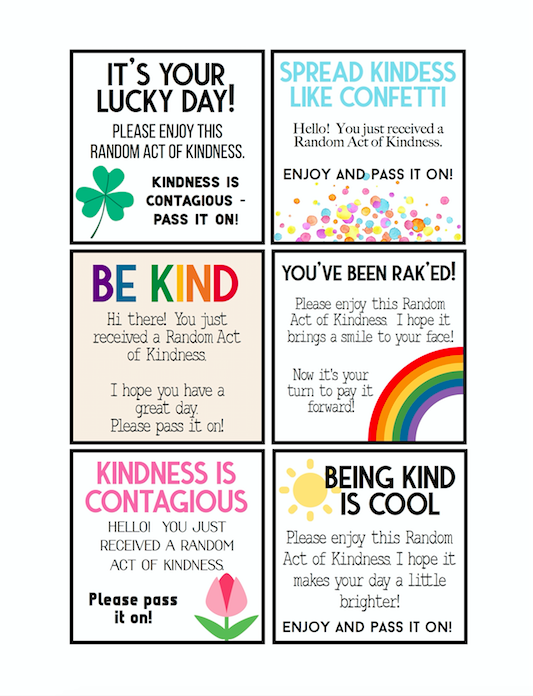 Happy Random Acts of Kindness Week! I know it officially started a couple days ago, but it's never too late to start an act of kindness. In my last couple of years as a teacher I had my students do random acts of kindness and either write about it or take photos so we could make bulletin boards and highlight what we had done in our community. Students, parents, and teachers alike really enjoyed seeing what others were doing and how it fostered a friendly competition on who was being the most thoughtful 🙂 Below are a few ideas for random acts you can do in your neighborhood and you can download these cute tags to leave behind here.
Leave money in a vending machine

Buy a coffee for a person ahead or behind you in line

Leave money in a stranger's meter

Pick up litter

Return the grocery carts in the parking lot

Give a stranger a compliment

Bake cookies for someone – or consider your local police or firehouse

Hold the door open for someone

Leave letters of encouragement in a public place

Mow/rake//shovel the lawn for your neighbor
You can find other fun ideas on these sites here and here, but no matter what you do, remember no act of kindness is too small!
If you use these tags, please tag me on Instagram @tinamariegreen so I can follow along on all the kind acts!