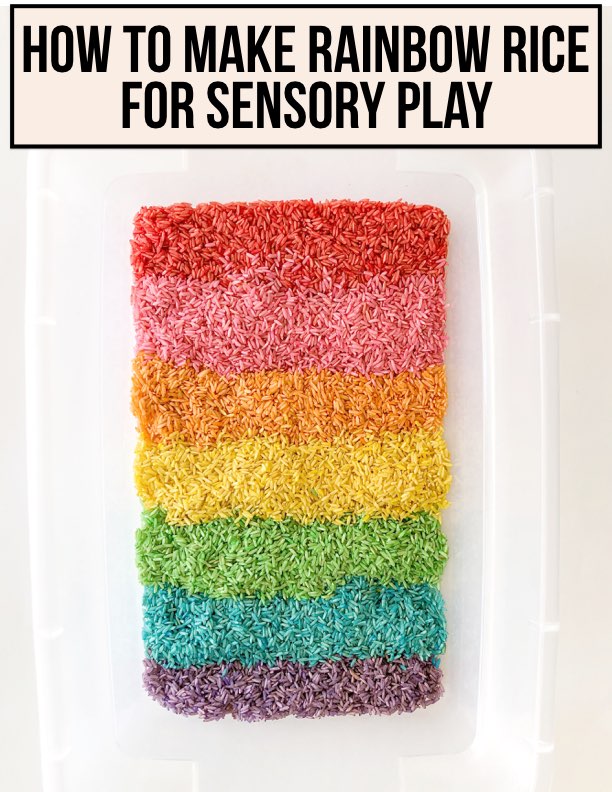 I've been wanting to make a sensory bin for awhile, and I couldn't resist trying my hand at making a rainbow themed one with St. Patty's Day just a few weeks away!
All you need is Ziploc bags, rice, and food coloring! Here are the basic steps:
Measure 1 cup of rice and put in Ziploc bag
Pour in approximately 3/4 a teaspoon of water into bag
Add in your food coloring – more drops will make a richer color
Close bag and mix the rice thoroughly. You may need to put in more food coloring or water if you're not getting the color you want.
Lay the rice out for about 20 minutes to an hour (depending on how much water you put in it) on a sheet of tin foil or parchment paper to dry. Once it's dry it won't leave color on your hands.
Repeat steps for any additional colors.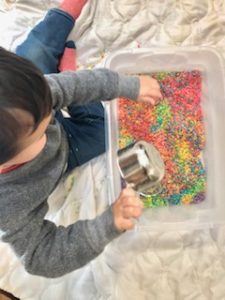 Add in objects or cups for them to engage with and that's it! TIP: Put a sheet or blanket under the sensory bin to make cleaning up easier, because it WILL be a mess.
I made the rice during Theo's nap but this would easily be something fun to have your child help you with!
And as long as your rice is stored in a cool place in a jar or bag, it's good FOREVER. Yes, you just make this once and have an easy sensory bin on the fly.
Have fun!