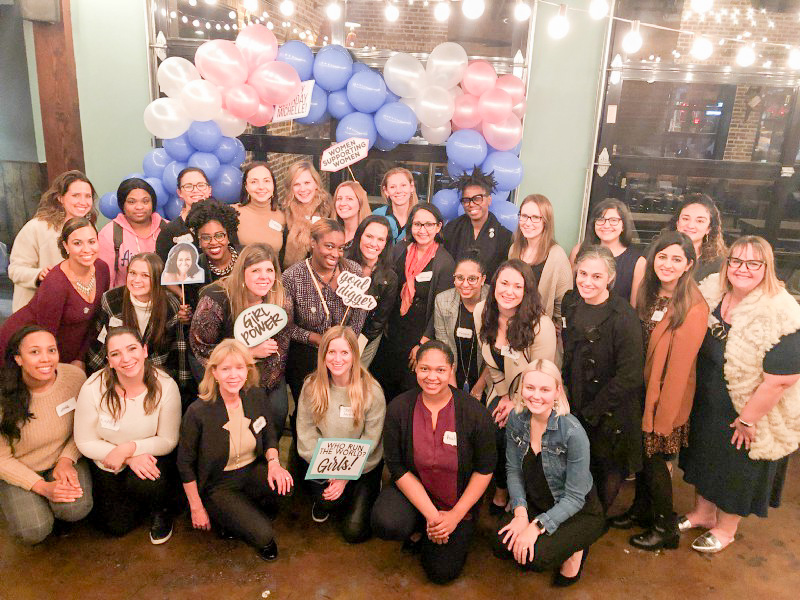 Like so many others, I couldn't wait to get my hands on Michelle Obama's memoir when it came out last year. I was lucky enough to be able to hear Mrs. Obama speak during her book tour and her rationale for choosing the title "Becoming" really stuck with me — she spoke about how her story is still far from over and how she is always evolving and growing. I loved the idea that even the most admired woman in the country is still 'becoming', just like the rest of us.
Last year on the evening of her 55th birthday, I co-hosted a birthday party in her honor that also included a goal-setting workshop for over 30 professional women all on the theme of "becoming" the best versions of ourselves. Below I've detailed the event so that you can host your own workshop! 
Sample Agenda:
30 minutes: Building Community + Mingling
20 minutes: Introduction game
15 minutes: Trivia + prizes + raffle
Time Remaining: "I Am Becoming ____" Goal-setting activity
Building community + Introductions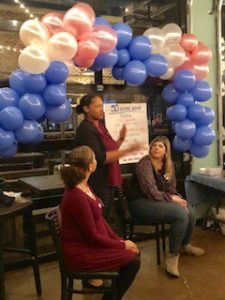 In my opinion the most important aspect of any gathering is building trust and a sense of community. You cannot ask people to be vulnerable without first creating a feeling of safety and belonging. Due to the size of our group, I knew I had to have something quick and engaging, but also push women to share something about themselves that would allow others to know something deeper about them.
I implemented a '30 second' introduction game in which one at a time, women came up and had a menu of options they could choose from to spark ideas on what to share in their introductions. The menu included things like name, occupation, favorite karaoke song, and so forth. However, participants had ONE required item they had to share — a recent accomplishment(s) within the past year that they were most proud of.
I specifically chose this because as women we tend to shy away from bragging about ourselves. So many women I know are humble to a fault or feel uncomfortable talking about themselves, so I really wanted women to start the evening owning their successes. This was my favorite part of the evening because women really opened up and after each of them spoke, the guests all cheered and clapped in one of the most beautiful displays of women supporting women that I've ever seen.
Trivia
After the introduction game I asked the ladies to find a partner that they haven't met before and who had an introduction they really loved. We then completed a short round of trivia on Michelle Obama's life to ensure we were inclusive of those who hadn't finished the book. Consider gifting the winning group something that aligns with the theme of becoming our best selves, like candles, face masks, etc.
Goal setting
Mrs. Obama clearly states that she is still in the process of becoming and that the growth process truly never ends. I created a goal-setting worksheet with the acronym OBAMA which you can download to guide your discussion and fits with the book's theme.
Download the "BECOMING GOAL SETTING WORKSHEET" for free here.
Finally, I had guests write out what they are working on becoming — examples from our party included "I am becoming kinder to myself" or "I am becoming more balanced". Each woman was asked to read out their 'I am becoming' one pager as a powerful close to our evening.
Download the "I AM BECOMING ____" one pager here.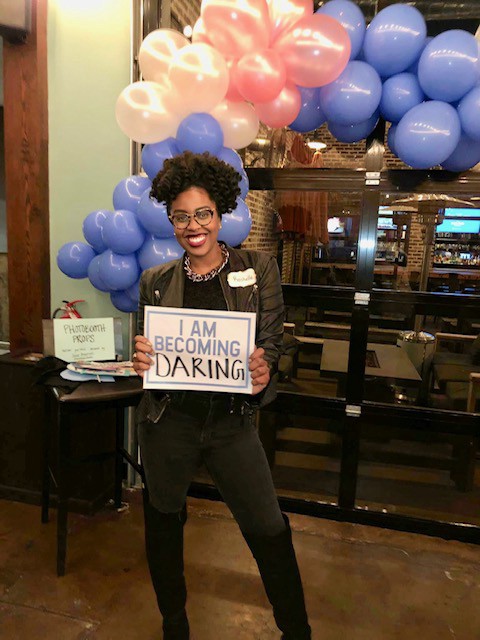 Giving Back
Consider asking participants to give back and support women or girls in need. For this event I charged a small fee and all proceeds went towards a local women's shelter. However, you could also have guests bring items like old clothes or feminine products to be donated or have the money go towards charities that target women and girls. This is a great way to continue the book's theme and support women on their journey to 'Becoming' their best selves.
Other helpful tips:
Invitations + Sponsors + Theme: Go all out with the theme! I created sample menus to inspire you which you can see below and download here. I also reached out to sponsors for my event to see if they would donate goods and was thrilled to see so many jump at the chance! I made sure to choose female owned business and put signs up around the event so guests could tag the companies in their pictures and support our local female entrepreneurs!
I hope this helps inspire your own Becoming party! Please feel free to reach out if you have any questions!