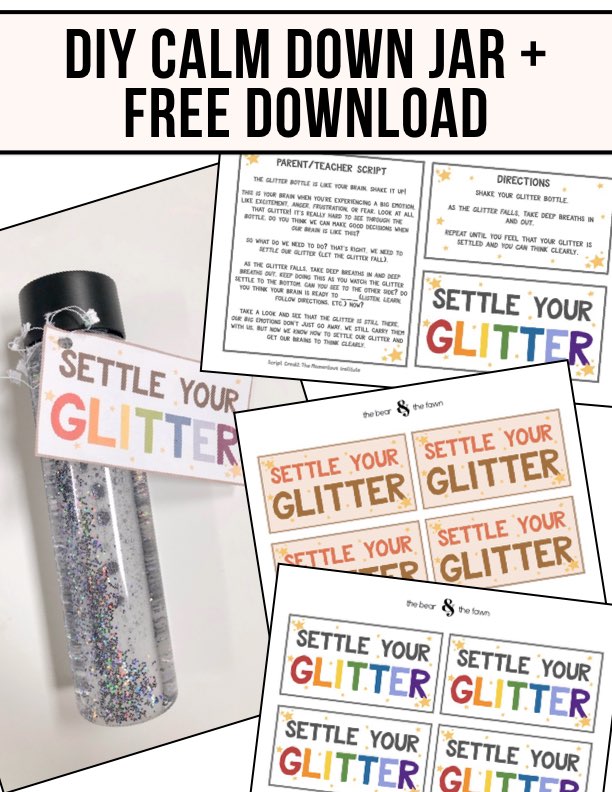 Inspired by my trainings with the Momentous Institute, I wanted to try and make my own version of their glitter ball which worked so well with my students when I was an administrator. Every teacher in the school had one of the glitter balls in the calm down boxes we made for each of them – its such a simple, yet effective tool. However rather than purchasing one, I followed the directions they have on their website!
I also made these Settle Your Glitter Cards that you can download and print for free. I retyped their script so that you could have something easily on hand to reference as you begin using this tool. Though its effective even without understanding the "settle your glitter" I think it's helpful when  you explain to your child (if they're old enough to understand) how the brain doesn't work properly when one is frustrated/angry/upset aka their glitter needs to be settled.  I can't wait to hear about how it works with your child.
Please also check out my Instagram stories for some calm down bottles that I love because the possibilities are really endless! Get creative! Have a cars fan? Put in a small car for them to find in the glitter! A unicorn lover? Try pinks and purples and small unicorn glitter!
---
Materials:
bottle/jar (I found mine in the dollar section at Michaels, but I have also repurposed old water bottles),
clear or glitter glue
glitter
optional: miscellaneous small toys
optional: food coloring
Directions:
Squeeze glue into the bottom of the bottle – squeeze for about 4 or 5 seconds, approximately half an inch deep depending on the size of your bottle.
Fill the jar almost to the top with water.
Add in some glitter and any objects you'd like for your child. You don't need a lot of glitter (perhaps a small spoonful) and a little goes a long way.
Shake and test to make sure you have the right ratio of glue and water; you can always dump some out and experiment with different portions.
Glue the lid to the bottle! Make sure it's tight and dry before giving to your child.
Shake it up! Then hold it steady. Watch the glitter fall. Take some deep breaths.