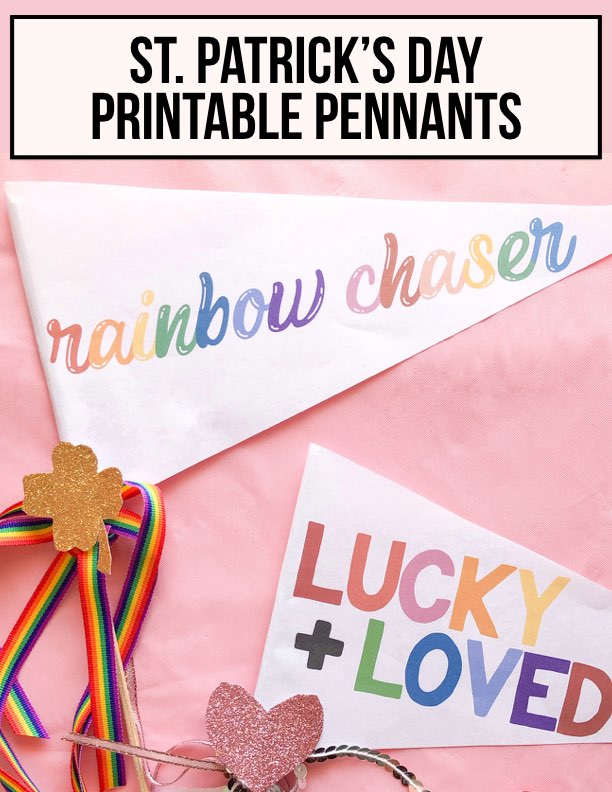 I am so excited to share these St. Patrick's Day themed pennants with you! These are perfect for when you're going to the parade and want some flare or simply a DIY craft that will add some holiday spirit to your children's room.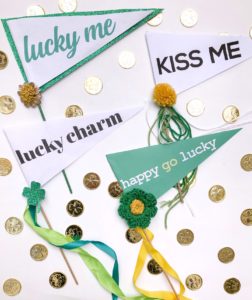 The packet of pennants is a PDF file of 13 (LUCKY 13 of course!) pages that you can print from home and assemble in any way you like! The best part of downloading and printing these on your own is that you own them forever and can make as many as you want.
Below I'll add some directions and tips. You can purchase your packet of pennants here in my store or on my Etsy page. And please tag me and share on Instagram so I can see what you create!
Materials: pennant print outs, wood dowel (or any handle – I've even used chopsticks!), glue (I recommend hot flue), embellishments – stickers, glitter, ribbons, pom poms, etc.
Purchase, download and print pennants. I recommend printing on heavy card stock for durability. You can also print on regular paper and then glue onto a thicker paper like construction paper.
Cut pennant out along black line edges
Fold pennant along edge and glue pennant onto the dowel. I HIGHLY recommend hot glue or a stronger glue (not a glue stick) so that it does move easily off of the dowel.
Let dry and ensure it's sturdy onto the dowel
Add embellishments! To tie ribbon on, I put a small dab of hot glue on the dowel and then double knot the ribbon tight and let dry. I also usually hot glue some sort of decor on the knots, such as a glitter clover made from thick paper or a pom pom.
Let your kids get creative! Maybe have them color the pennant before you cut it out, or have them add their favorite stickers. You can cute the pennant out and glue to a fun background or even felt for a classic pennant style! And please check out my Instagram stories for even more tips and tricks!